My art is currently on display in the following locations:
Artisans of Muskoka Gallery, Huntsville ON http://artisansofmuskoka.com/
Windows to the North Gallery, Magnetawan ON http://www.windowstothenorth.com/artists.html
Ethel Currie Gallery, Haliburton ON http://www.theethelcurrygallery.com/artists.php
*Please contact me for paintings that are list as 'available' as I will ship them at a reasonable cost.
Introduction
I paint Canadian wildlife on reclaimed lumber. The wood I use was once siding or flooring in a 100+year old barn. Each piece is unique and when preparing the surface for painiting, I leave as much of the original board as possible. The knots, holes, and marks where an animal gnawed on the wood add to the artwork and make it a truly original work.
I use acrylic paints and finish with a satin polyurethane that brings out both the colours of the artwork and the beautiful features of the reclaimed wood.
I have many pen + ink prints and watercolours that are professionally framed in reclaimed wood frames that I build.
Feel free to look through my gallery to see pictures, but realize that photos do not do this work justice; it must be viewed in person to appreciate the character of the wood on which I paint. If you have any questions, please contact me.
In 2019, I was asked to write an article about my art in the Almaguin Highlands Community Guide Magazine. My picture was taken in front of the mural I painted for Danny's Justa Pasta many, many moons ago.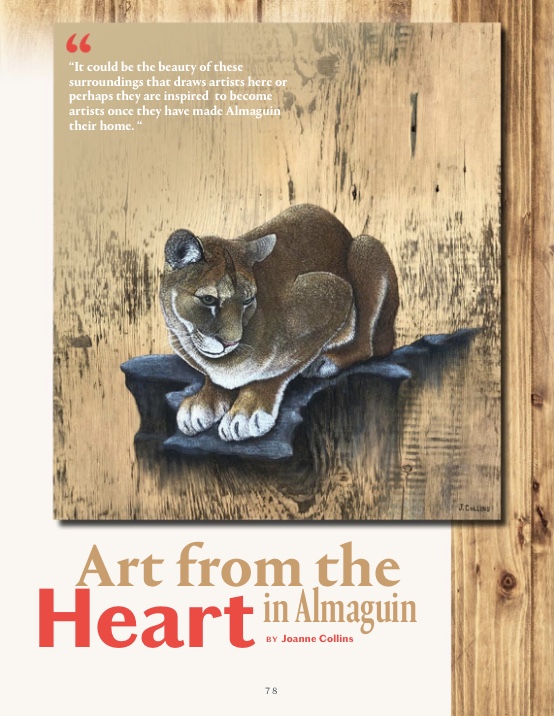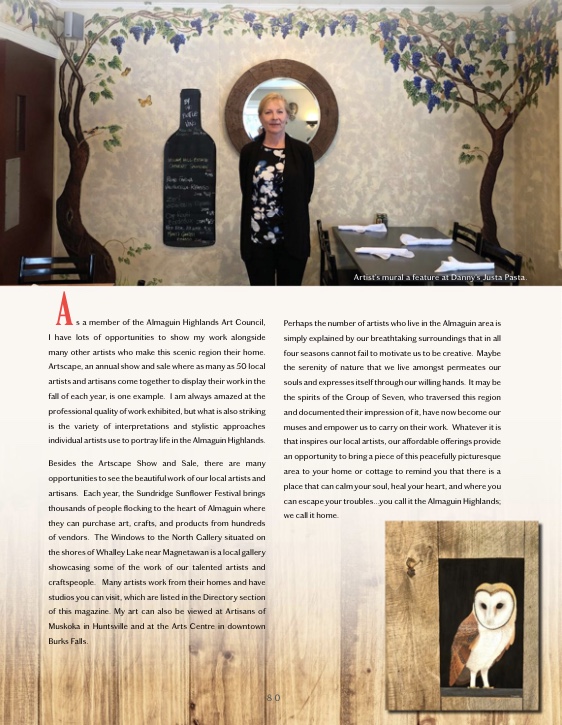 Box 184 Magnetawan, Ontario | 1-705-471-2124